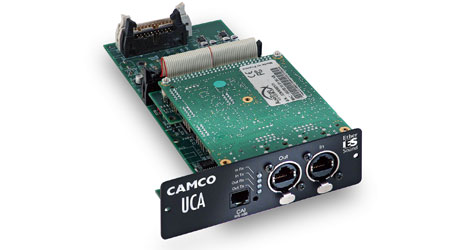 CAMCO's new controller-modules allows the upgrade of a CAMCO amplifier into a Universal Controller Amplifier (UCA), with the option for advanced audio network and remote control.

Loudspeaker Management System
The controller-module offers a complete loudspeaker management system. Per channel it offers 30 fully parametric EQ's, delays, llR-filters, X-over up to 10th order and 2 independent limiters.

Audio Network, Your choice
The controller-module is available in three input formats. The choice is yours. Either, analog, EtherSound or CobraNet. Total compatibility with today's standards within digital audio networks.

Remote Control as Standard
As standard the controller-module offers access to the remote control of the amplifier. For controller-modules with audio network input, remote control can be achieved via this network, thus avoiding two cable lines to the amplifiers.

Controller Software
Access, configuration and control of the controller-modules are achieved via the controller software, which also functions as the remote control software. Software is free for all registered users; please see your local CAMCO dealer for further information.

Linear Frequency and Phase Response
A unique feature is the possibility to use advanced FIR-filter settings by downloading speaker parameters from an accredited measurement system. This makes it possible to achieve a linear frequency and phase response from any loudspeaker or loudspeaker system. Please contact CAMCO for further information.


Product Brochure (.pdf 3.1 MB)
... in other languages

UCA Module Perspective (.jpg 345 KB)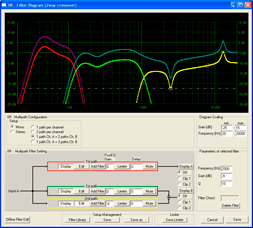 The powerful controller DSP offers up to 4 paths in a multipath routing structure. This allows emulation of passive X-over filters, thus making it possible to control EQ, limiter and delay settings for individual speaker drivers in a passive X-over system.
(click on picture to zoom)