Following on from the introduction of the CAMCO Q-Power series of 4 channel amplifiers, the D-Power series develops the range further with the introduction of six 2 channel models. The D-Power D05 250 Wper channel, D1 500 W per channel, D2 1000 W per channel, the D3 1500 W per channel and the D4 2000 Wper channel and D7 3300 W per channel. All six models have once again been designed to provide that, Powerful Pure Sonic Performance which is now so synonymous with the CAMCO brand name

New Platform
The D7/D4/D3/D2 models utilise a Hybrid Class H amplifier engine, while the D05 and D1 use the new UMAC™ Class-D technology, All offering smooth and responsive handling throughout the power range. All models benefit from the latest advances in CAMCO's SMPS technology, the resulting light weight units are at home in all professional applications. Use in combination with the Q-Power series or on their own, the D-Power series delivers pure and reliable power for applications where cost and ease of use are paramount without lose of integrity.

Designed for flexibility of Use
The introduction of the D-Power series now expands the choice and ability to refine system specification to exact requirements. D-Power power output specifications have been select to work as stand alone amplifiers or in combination with Q-Power series so that exact power formats can be matched, minimizing rack space and maintaining family function and design.

Simple Direct Approach
Once again paying great attention to market requirements for a strait forward approach, with the D-Power series CAMCO has identified key elements, such as power output range, flexible connectivity and interaction. The resulting six models are of rugged design and suitable for professional Installations, Theatre and Live Sound application.

6 Years Warranty
CAMCO amplifiers renowned reliability is backed up by 6 years warranty from date of first purchase.


Product Brochure (.pdf 3.1 MB)
D-Power 05/1 User Manual (.pdf 1.1 MB)
D-Power 2/3/4 User Manual (.pdf 1.1 MB)
D-Power 7 User Manual (.pdf 1.3 MB)

D-Power 7 Front (.jpg 488 KB)
D-Power 1 Front (.jpg 488 KB)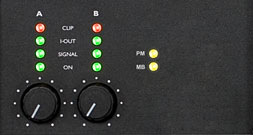 Clear LED status indicators above each potentiometer indicate; Amp on, Signal present (this is red if in protect mode), Output current and clip status.