The evolution of technology, its application and the resulting real world solutions are at the heart of every CAMCO product. With the introduction of the new CAMCO "Silver Series V8" we are once again pushing the boundaries of power, performance, sonic integrity and integration.

Power
The CAMCO Vortex V8 Silver Series delivers 8600 Watts of pure power in 2 Ohm or 4 Ohm applications. You choose, same powerful result, a constant 4300 Watts of power per channel. With CAMCO's latest Hybrid Class H output stage topology, advanced SMPS designs, the V8 offers levels of power and application flexibility truly suited to all worldwide pro-audio markets

No more Switches
A key part of the new V8 design is the absence of any control knobs or switches, front or back. Control of all parameters is via the screen user interface and gain slider. This clean, practical approach reduces ware & tear factors on moving parts while delivering a forward thinking approach to function, safety and plain good looks.

UMAN Network Solution
UMAN network solutions, Any input – Any network – Any device. This advanced network solution is fitted as standard. UMAN is the next generation, a true network system for all. Super low latency – no problems with integration to existing technologies – no limitations.

Intelligent Input Routing
The signal path is always optimal, no latency, a direct path from input to output bypassing any unnecessary A to D converts/DSP. The network input is linked direct to the amplifier channel. You choose, run the system in full analogue or digital domains.

DSP
An optional plug-in DSP card is available, allowing the V8 to become a fully DSP/DSP Network controlled speaker management system.

6 Years Warranty
CAMCO amplifiers renowned reliability is backed up by 6 years warranty from date of first purchase.



Vortex 8 Flyer (.pdf 0.4 MB)
Vortex 8 User Manual (.pdf 3.0 MB)
Vortex 8 Navigation Guide (.pdf 0.7 MB)



Vortex 8 Front (.jpg 500 KB)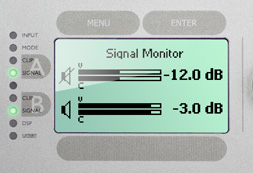 In addition to all amplifier functions being accessed and controlled by the screen user interface and gain slider, clear LED indication of Clip/Signal for both channels can be found on the LHS along with a light sensitive metre which automatically controls the LCD screen user interface light levels.