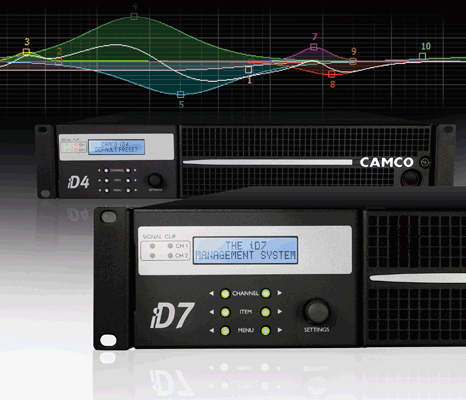 i-Series Power Management System
i-Series captures all the key elements of CAMCO's advanced amplifier designs and marries it perfectly with powerful on-board 64 bit digital processing to produce an advanced power amplifier/DSP management system suitable for all professional applications.

Featuring: Two analogue inputs, two AES/EBU inputs, two outputs, ten PEQ bands per input / output, a frequency range from 20 Hz to 40 kHz, rugged analogue input stage dealing with input voltages up to +23 dBu, excellent dynamic range of 120 dB, highest quality converters, all come together forming part of i-Series extensive feature set and resulting sonic purity.

Amplifier
The amplifier section provides highest quality power. CAMCO latest SMPS, high value protection system, intuitive control set & rotary encoder control access to all para- meters and functions, navigation is straightforward and clear.

Along with rugged construction and fine styling, shear quality of results from all departments and ease of use have been created to meet the highest of engineering requirements.

DSP Section
The DSP section features 96 kHz sample rate and high quality converters with dynamic range of 117 dB for the analogue inputs and 120 dB on the outputs, for optimal sonic purity. For each input and output you can set up 10 parametric filters, limiters and delay, making the i-Series fully configurable for any speaker system.

Special features include multiband compressors for surgical processing of your music and grouping functionality for controlling multiple systems simultaneously.

Up to 50 presets can be stored for instant recall from the front panel of the i-Series amplifiers.

Software
Easy to use and easy to configure system setups, the software includes all the control functions that demanding audio engineers require, it is presented graphically to make it straightforward and intuitive to use.

The functions include grouping, clear graphical editing of parametric EQ's, saving of PEQ graphs as images, exporting presets as text files, delay can be measured in metres, millimetres, feet, inches, seconds and milliseconds.

Other functions include remote monitoring of status, of external equipment, security access rights and integrated remote firmware upgrade. The software is available for Windows XP, Windows 7 and Mac OS.

It is possible to run the DSP-software in demonstration mode (no amplifiers connected). Download the i-Series DSP-software

6 Years Warranty
CAMCO amplifiers renowned reliability is backed up by 6 years warranty from date of first purchase.


iD4 / iD7 Flyer

(pdf 2.5 MB)

iD4 / iD7 Flyer

(pdf 3 MB)

i-Series DSP-software & User Manual


iD4 Front (jpg 0.6 MB)

iD7 Front (jpg 0.8 MB)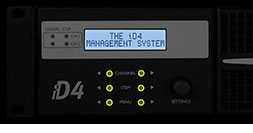 The 6 quick-access buttons on the front panel are back-lit making them visible and easily accessible in dim environment. They also serve as shortcuts to the most commonly used features making configuration quick and easy.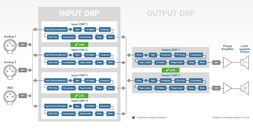 The DSP section offers a vast range of filters, compressors, limiters and delay settings making the i-Series into a fully fledged speaker and power management system.
[Click on image to zoom]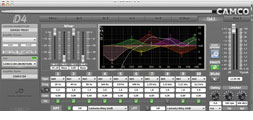 The integrated DSP features 10 parametric equalizers (PEQs) on each input and each output. Up to 50 presets can be stored in the DSP for instant recall.
[Click on image to zoom]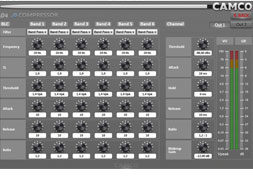 The multiband compressor allows the i-Series amplifier to apply surgical processing to your music, making it punchy but still clean and transparent.
[Click on image to zoom]