August 2009 - Vortex amplifiers have powered some of the biggest stages in Norway this summer, in the hands of PA company Frontlite, a long-time CAMCO user.

Nearly 60 CAMCO Vortex type amplifiers appeared on stage with A-Ha at the VG-Lista Topp 20 concert in Oslo, the largest event of its kind in Scandinavia this year. Attended by more than 90,000 people, the show featured Alexander Rybak, winner of the Eurovision Song Contest for Norway, and other well-known pop artists. Frontlite designed a substantial line-array system to serve this city-centre location, with 5x PA towers handling a central audience area of some 10,000 sq. metres. 36x Vortex 6 amps were racked on stage for the main PA and side hangs, with 18x V200 handling the subs.

Frontlite was also using Vortex at the Hove Festivalen, the biggest outdoor music festival in Norway, where headline acts included The Killers, Faith No More, Slipknot and The Prodigy.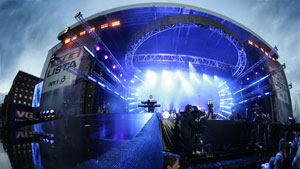 VG-Lista show in Oslo with Morten Harket and A-Ha on stage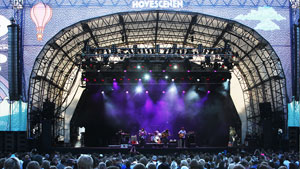 Hove Festivalen